Palmon
(パルモン)
Appears in:
Digimon AA
Digivolution
Fresh
Yuramon
In-Training
Tanemon
Rookie
Palmon
Champion
Togemon
Ultimate
Lillymon
Mega
Lotosmon
Palmon is a fictional character & Digimon from the fanfictional series Digimon AA.
Personality
Attacks
Poison Ivy: Palmon's claws become long and whip like. Whilst her claws are like this she can use them to capture and attack her enemies and even swing to safety.
Other Forms
Yuramon's Digi-Egg

Yuramon's Digi-Egg is held alongside May's Digivice & Tag, the Crest of Sincerity, & the other Digi-Eggs, Digivices, Tags, & Crests.
Yuramon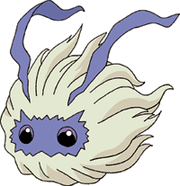 Yuramon is Palmon's Fresh form.
Attacks
Bubble Blow (Acid Bubbles): Fires harmless pink bubbles from her mouth. Many digimon of her level share this attack.
Tanemon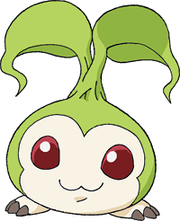 Tanemon is Palmon's In-Training form.
Attacks
Bubble Blow (Acid Bubbles): Fires harmless pink bubbles from her mouth.
Togemon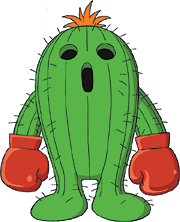 Togemon is Palmon's champion form.
Attacks
Needle Spray (Chikku Chikku Bang Bang): Togemon shoots millions of cactus spines out of her body which damage her foes.
Light Speed Jabbing (Mach Jab, Fast Jab, Togemon Punch, Coconuts Punch): Punches an enemy with jabs faster than the speed of light.
Lillymon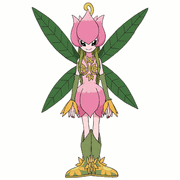 Lillymon is Palmon's Ultimate form.
Attacks
Flower Cannon (Flow' Cannon): Brings both of her hands together which form a large yellow flower, then opens revealing a cannon which fires a blast of green energy that explodes in a shower of flowers upon impact.
Flower Wreath (

花の首飾り

Hana no Kubikazari

?

): Zips around an enemy and ties them up with a rope of vines and flowers. This attack can counteract digital viruses and make certain Digimon obey her command.
Lotosmon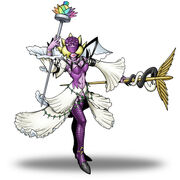 Lotosmon is Palmon's Mega form.
Attacks
Serpent Cure: Releases a white aura from the Caduceus.
Serpent Ruin: Releases a black aura from the Caduceus.
Seven's Fantasia: Releases a seven-colored aura from the staff of rainbow-colored flowers that tempts the opponent into a euphoric fantasy world and causes them to completely lose their fighting spirit.