Planemon
Planemon is the Digivoltion of Fan:FishyPlanemon.It is called "plane" because of its looking which is very similar with a plane.This Digimon is a member of a Fan:Fish-Digimon-Nation and helps Fan:HolyLightmon to defeat their enemies,besides it protects its children.Out of the holes of its fins,it can shoot missiles,which are good anti-aircraft weapons.That's the reason why it's feared of many flying Digimon.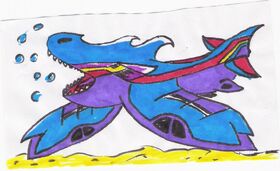 General
Wale Digimon
Level:Champion
Type:Virus
Digivolves from:Fan:FishyPlanemon
Families:Fan:Fish-Digimon-Nation
Created by:Seraphimon222
Attacks
Water Basooka:Planemon shoots missiles out off its fin-holes to a flying enemy.
Torpedo Diver:Planemon shoots two torpedos out off its fin-holes to a swimming or diving enemy.