Appearance
Pyschemon is a purple-eyed pink-skinned lizard in a white pelt with purple markings. A violet horn protrudes at the top of his head and his belly is lime green with unusual dark green markings.
Personality
Description
Attacks
Colored Sparkle (Colorful Spark): Releases colorful electric shocks from his horn.
Striped Horn Attack (

ハデハデボーン

Hade Hade Horn

?

): Jumps horn-first with sparkling lights at the enemy.
Other forms
Darkdramon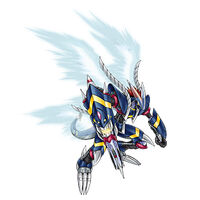 Darkdramon is Psychemon's digivolved form.
Attacks
Dark Roar: Fires Dark Matter as energy shots in a bold move that is said nothing in this world can survive.
Gigastick Lance
Terrible Gaze
Ad blocker interference detected!
Wikia is a free-to-use site that makes money from advertising. We have a modified experience for viewers using ad blockers

Wikia is not accessible if you've made further modifications. Remove the custom ad blocker rule(s) and the page will load as expected.