Rumble

Appears in:
Digimon Classic
First appearance
TBA
Partner(s):
Jason
Digivolution
Fresh
Yuramon
In-Training
Tanemon
Rookie
Floramon
Champion
Ninjamon
Ultimate
Mamemon
Mega
PrinceMamemon

Rumble is said to be the most violent of the group, which is odd when you consider Solomon's the one doing the more brutal combat in most cases. How is it Rumble classifies as more violent than Solomon in his resume? Is it due to his tactics as Ninjamon, by slicing through each opponent before they have a chance to react yet alone notice him? Is it his tactics as Floramon and his other forms, which have him constantly brutalize and pummel the opponent until nothing remains? Nobody can be quite too sure regarding Rumble, just never doubt that he is one of the most competent fighters in the group. Despite being the most competent, Rumble barely speaks, almost to the point of being completely silent. He's often used as a living cannonball for his partner, Jason's, offensive strategies, as he takes part of Jason's strategies to the fullest, which lead to him and his partner being both recognized as the most feared of the protagonists side of the conflict at hand.
Other Forms
Yuramon

His Fresh form is Yuramon, but he is never seen as it directly.
Tanemon

His In-Training form is Tanemon, but again, is never seen in this form at all, because all of his Degenerations lead to Floramon rather than to Tanemon or Yuramon
Floramon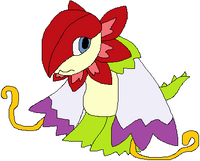 His primary form, as Floramon, is kind of ironic given his appearance. HE looks like the one who'd be a pacifist, not George, yet Floramon is completely chaotic when it comes to combat. He is the only one to actually beat Solomon as their Rookie forms alone, which should certainly speak for itself...
Ninjamon
Rumble's Champion Form, Ninjamon. Oddly enough, despite Rumble's overall personality, he takes on a more stealthy approach to attacks than he does as Floramon, which may or may not be a good thing as it sometimes can cost the battle. However, despite this, his stealth tactics actually manage to succeed for the team's own good.
Mamemon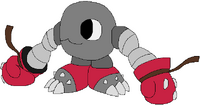 Mamemon is Rumble's Ultimate Form. Upon digivolving into this form, he and Taro are quick to point out that he, George, and Solomon form a trio of some sorts. All three of their Ultimate Forms were the first Ultimate Level Digimon to be programmed, even though Solomon and Eaglemon were the first living Digimon by technical default. Each of their Ultimates were based on the Vaccine (George), Data (Rumble), and Virus (Solomon) Attributes. Rumble is easily one of the most powerful of the Ultimate Levels in the group, but is outclassed by the others due to their much larger sizes in comparison.
PrinceMamemon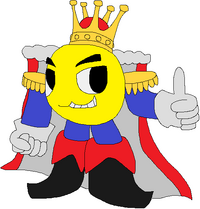 TBA
Ad blocker interference detected!
Wikia is a free-to-use site that makes money from advertising. We have a modified experience for viewers using ad blockers

Wikia is not accessible if you've made further modifications. Remove the custom ad blocker rule(s) and the page will load as expected.