Ryudamon is a fictional character & Digimon in the fanfictional series Digimon AA. He is the second partner of Kioku, member of the Neo-DigiDestined.
Personality
Attacks
Kabutogaeshi (兜返し lit. "Helmet Reversal"): Withstands the opponent's attacks with its armor & helmet, then counterattacks.
Katana Attack (居合刃 Iaijin, lit. "Iai Blade"): Leaps into the opponent's chest & fires a blade of iron from its mouth.
TERA BURST: Blasts the opponent with multiple explosions.
Description
Other Forms
Fufumon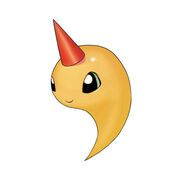 Fufumon is the Fresh form of Ryudamon.
Attacks
Chīsana Tetsu no Toge (小さな鉄のトゲ? lit. "Little Iron Spikes"): Spits small iron spikes from its mouth at an approaching opponent.
Kyokyomon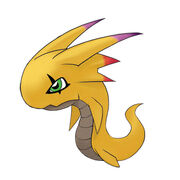 Kyokyomon is the In-Training for of Ryudamon.
Attacks
Metal Straw: Stretches itself out & then fires an iron spike from its mouth.
Reptiledramon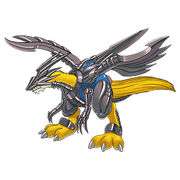 Reptiledramon, the "Dragon of Truth", is the form Ryudamon takes when he Armor Digivolves using the silver half of the Digi-Egg of Truth.
Attacks
Crash Charge: Attacks with an assault that capitalizes on the sharpness of its Chrome Digizoid metal armor.
Ambush Crunch: Leaps upon the opponent & instantly bites & rends their vitals with its sharp teeth.
Ginryumon
Ginryumon is the Champion form of Ryudamon.
Attacks
Metal Armor Blade (徹甲刃 Tekkoujin, lit. "Armor Piercing Blade")
Boujinha (棒陣破 lit. "Battle Rod Break"): His tail lights up & he hits the enemy with a strong iron tail.
Hisyarumon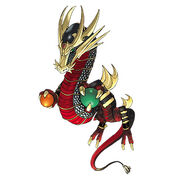 Hisyarumon is the Ultimate form of Ryudamon.
Attacks
Legendary Dragon Blade (成龍刃 Seiryūjin, lit. "Grown Dragon Blade")
Jūouguruma (縦横車? lit. "Every Direction Wheel")
Owryumon
Owryumon is the Mega form of Ryudamon.
Attacks
Eiseiryūoujin (永世竜王刃 lit. "Immortal Dragon King Blade"): Fires an attack from the Gairyū Sadaijin & Gairyū Udaijin.
Golden Armor (黄鎧 Ougai, lit. "Yellow Armor"): Rampages like the earthflow of a mighty river, cutting everything apart while charging the opponent.
Alphamon Ouryuken
Alphamon Ouryuken is a Mega level Digimon who is the DNA Digivolved form of Alphamon & Owryumon.
Attacks
Ultimate-Battle-Blade-OURYUKEN (究極戦刃王竜剣 Kyūkyokusenjin Ouryūken?, lit. "Ultimate-Battle-Blade-Ouryu-Sword"): Swings the Ouryuken.
Digitalize of Soul: Fires multiple green energy beams from its hands.