Salamon is a Digimon character in Digimon Data Squad: Legacy .
Salamon

Partner(s):

Julie Ogawa

Digivolution
Fresh
YukimiBotamon
In-Training
Nyaromon
Rookie
Salamon
Champion
Gatomon
Ultimate
Angewomon
Mega
Ophanimon
Description
Salamon is Julie's partner. She is like Julie kind girly and can sound a bit crazy sometimes. Salamon and Julie take good care of each other like the first time they met Salamon's digi-egg appeared in Julie's room and it hatch, since then they are best friends.
Other Forms
Nyaromon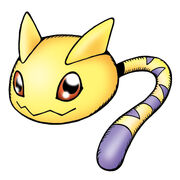 Nyranomon is Salamon's In-Training form.
Gatomon
Gatomon is Salamon's Champion form.
Angewomon
Angewomon is Salamon's Ultimate form.

Ophanimon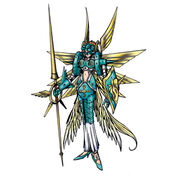 Ophanimon is Salamon's Mega form.
Ophanimon C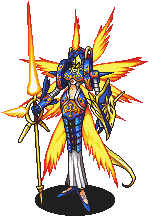 Ophanimon is Salamon's Burst Mode. Even though it dosen,t say burst mode in her name
Ad blocker interference detected!
Wikia is a free-to-use site that makes money from advertising. We have a modified experience for viewers using ad blockers

Wikia is not accessible if you've made further modifications. Remove the custom ad blocker rule(s) and the page will load as expected.