Seven Great Angel Warriors
(七大天使戦士)
General information
Founder:
Celestial Digimon (under the orders of God)
Intentions:
To serve God & protect the Digital World
The Seven Great Angel Warriors (七大天使戦士, Nana Dai Tenshi Senshi?) are a group of Angel Digimon who each represent one of the seven heavenly virtues. They are based on the seven archangels mentioned in Enoch I (the Book of Enoch). They are Angel Digimon who were chosen by the Celestial Digimon under the command of God to protect the Digital World from dark threats, such as the Seven Great Demon Lords, their archrivals & evil counterparts.
Members
Crests
Each of the Seven Great Angel possesses a unique "Crest" (紋章 Monshou?) (or Crests) displayed in one of the ten colors of the visible spectrum. Each depicts one of the ten attributes of the "Sephirot". Each attribute is associated with a heavenly body, also depicted on the Crest(s).
Sakkakumon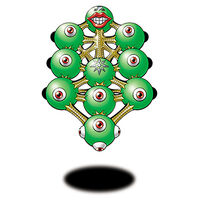 Sakkakumon is the Super Angel Warrior (超天使戦士, Chō Tenshi Senshi?), bearing all ten Crests, derived from the Sephirot, & digivolves from the Seven Great Angel Warriors.
Ad blocker interference detected!
Wikia is a free-to-use site that makes money from advertising. We have a modified experience for viewers using ad blockers

Wikia is not accessible if you've made further modifications. Remove the custom ad blocker rule(s) and the page will load as expected.