Sheepmon is one of the main Digimons character in "Digimon : The Golden Digivice".
Description
Sheepmon is a mammal Digimon that looks like a sheep with two of MegaGargomon's cannons on his back. He does not mind fighting to protect his friends.
Attacks
Wool Grenade: Causes enemy Digimon to instantly fall asleep with the gigantic wool balls fired from the Wool Ball Booster even in the midst of any battle.
Other Forms
In The Golden Digivice, Sheepmon raises several forms, in spite of his Champion form is the one that he sets mostly.

Tsubumon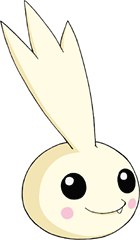 Tsubumon is Sheepmon's Fresh form. He is very careful but he is also quite brave.
Attacks
San no Awa: Drives off the opponent with acid bubbles.

Upamon
Upa is Sheepmon's In-Training form. He is not exactly scared but he is careful at this stage.
Attacks
Shock Shout: Releases an ultrasonic shout to make the opponent flinch.

Armadillomon
Armadillomon is Sheepmon's Rookie form. He resumes to this form when he is badly hurt.
Attacks
Diamond Shell: Curls up its body and rushes the opponent.
Diamond Slamming: Strikes the opponent with the elongated claws on its forelegs.

Pajiramon
Pajiramon is Sheepmon's Ultimate form. He is a Deva and very rough.
Attacks
Vahnijvala: Bellows out a sound wave that puts those who hear it to sleep.
Thunder Stomp: Stomps hard enough for a localized quake.
Bǎo Gōng: Fires many arrows of light from a crossbow.
Ad blocker interference detected!
Wikia is a free-to-use site that makes money from advertising. We have a modified experience for viewers using ad blockers

Wikia is not accessible if you've made further modifications. Remove the custom ad blocker rule(s) and the page will load as expected.