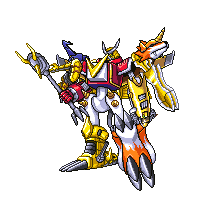 The Celestial Digimon derived from Shoutmon and Seraphimon. The Ancient Digimon has a Rainbow Guitar to be come a Great Digimon King.
Type
Mini Dragon
Attribute
Vaccine
Level
Mega
Prior Forms
Partners
Special Attacks
Rowdy Rocker: Uses the same attack as shoutmon.
Rock Soul: Summons the Black Beast Azure type to turn all Ultimate Level Digimon into Rookie Levels.
Soul Crusher: Shoots the Lazer Beams at enemies with it's Rainbow Guitar Blade.
Ad blocker interference detected!
Wikia is a free-to-use site that makes money from advertising. We have a modified experience for viewers using ad blockers

Wikia is not accessible if you've made further modifications. Remove the custom ad blocker rule(s) and the page will load as expected.