Tapirmon is a Digimon character in « Digimon : The Golden Digivice ».
Description
Tapirmon is a Rookie Digimon who looks like a malayan tapir. He is very shy, kind, smart and he is a book-lover. He know all the Digimon, their species, level and attribute. Tapirmon worships MarineAngemon for her open-mindedness.
He's seen for the first time in the tree house where he lived along with Armadillomon and where he met Liz and Rose. Episode 6: The Mystery Of The Golden Digivice
Attacks
Nightmare Syndrome: Releases its captured nightmares all at once, drowning the opponent in terror.
Other Forms
In The Golden Digivice, Tapirmon raises several forms, in spite of his Rookie form is the one that he sets mostly.

Boarmon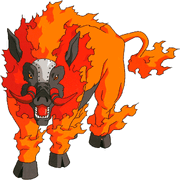 Boarmon is Tapirmon's Champion form. He is angrier than Tapirmon.
Attacks
Nose Blaster: Releases a flaming snort through its nose.

Mammothmon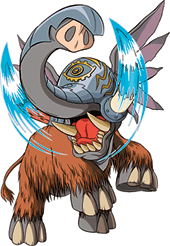 Mammothmon is Tapirmon's Ultimate form. He is very docile and peaceful.
Attacks
Tusk Crusher: Skewers the opponent with its two elongated tusks.
Freezing Breath: Spews cold breath from its long trunk all at once, instantly freezing any opponent.

SkullMammothmon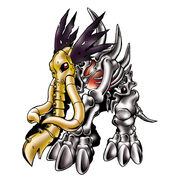 SkullMammothmon is Tapirmon's Mega form. He doesn't obey to anyone.
Attacks
Spiral Bone Crusher: Rapidly spins and then hurls one of its vertebra.