Tentomon is a fictional character & Digimon from the fanfictional series Digimon AA.
Personality
Attacks
Super Shocker (Petit Thunder): Tentomon fires a rod of electricity from his antenna.
Final Spin: Tentamon rolls and surrounds himself with electricity
Other Forms
Pabumon's Digi-Egg

Pabumon's Digi-Egg is held alongside Guan's Digivice & Tag, the Crest of Knowledge, & the other Digi-Eggs, Digivices, Tags, & Crests.
Pabumon
Pabumon is Tentomon's fresh form. He is a green-colored blob who has a yellow pacifier in his mouth.
Attacks
Bubble Blow (Adhesive Bubbles): An attack that involves firing adhesive bubbles from the mouth.
Motimon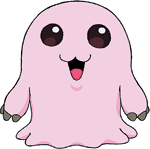 Motimon is Tentomon's In-Training form. Motimon is a cylinder-shaped pink blob with shining black eyes, a curvy smile & two arms which have three developing claws on each.
Attacks
Bubble Blow (Elastic Bubbles): Motimon fires bubbles from his mouth.
Kabuterimon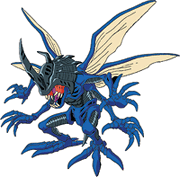 Kabuterimon is Tentomon's champion form.
Attacks
Electro Shocker (Mega Blaster): Kabuterimon fires a ball of electricity at enemies.
MegaKabuterimon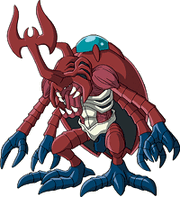 MegaKabuterimon is Tentomon's Ultimate form.
Attacks
Horn Buster (Horn Blaster): MegaKabuterimon fires an electric blast from his horn.
HerculesKabuterimon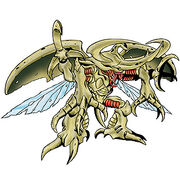 HerculesKabuterimon is Tentomon's Mega form.
Attacks
Mega Electro Shocker (Giga Blaster): An enhanced version of "Electro Shocker" which will annihilate anyone it hits.
Giga Scissor Claw (巨大はさみ, Kyodai Hasami, lit. "Giant Pincers")
High Mega Blaster
Horn Buster Kai (ホーンバスター改, Horn Buster Kai, lit. "Horn Buster Revision")