Tentomon is one of the main Digimon character in "Digimon : The Golden Digivice".
Tentomon
(テントモン)

Appears in:
The Golden Digivice
Partner(s):

Marina Dumont

Gender
Male
Digivolution
Fresh
Pabumon
In-Training
Motimon
Rookie
Tentomon
Champion
Kabuterimon
Ultimate
MegaKabuterimon
Mega
HerculesKabuterimon
Mega
TyrantKabuterimon
Description
Tentomon is a Rookie Digimon who looks like a ladybird. Like Marina, Tentomon is unpredictable and incomprehensible. He is very kind and gentle, but he always gets into trouble by wanting to help the others.
Attacks
Super Shocker: Hurls static electricity that it amplified with its wings.
Other Forms
In The Golden Digivice, Tentomon raises several forms, in spite of his Rookie form is the one that he sets mostly.

Pabumon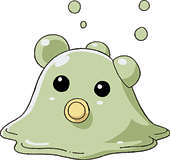 Pabumon is Tentomon's Fresh form.
Attacks
Bubble Blow: Escapes while the intruder's movement is restricted by the adhesive bubbles it generates from within its body.

Motimon
Motimon is Tentomon's In-Training form. He was at this level when Marina presents him to Liz. He resumes to this form after using his Ultimate form.
Attacks
Bubble Blow: Spits out bubbles.
Elastic Bubbles: Spits out mochi-like elastic bubbles that restrict the opponent's movement.

Kabuterimon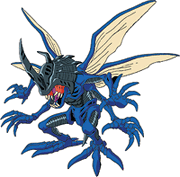 Kabuterimon is Tentomon's Champion form. He likes making fun of his friends, but he doesn't have bad thoughts.
Attacks
Electro Shocker: Fires an electrical ball at enemies.
Beetle Horn Attack: Charges his horn with electricity, and attacks enemies with it.
Electric Storm: Charges his body and arms with electricity, then flies around with the electricity attacking nearby opponents.

MegaKabuterimon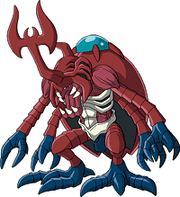 MegaKabuterimon is Tentomon's Ultimate form. He uses it for the first time to fight WaruMonzaemon.
Attacks
Horn Buster: Stabs the opponent with its gigantic horn.
Electro Shocker: Fires an electrical ball from its hands.
Wild Scratcher: Scratches with all four arms.

HerculesKabuterimon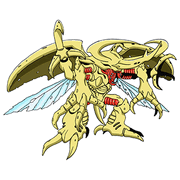 HerculesKabuterimon is Tentomon's Mega form. In spite of appearances, HerculesKabuterimon is very kind and docile.
Attacks
Mega Electro Shocker: An enhanced version of "Electro Shocker" which will annihilate anyone it hits.

TyrantKabuterimon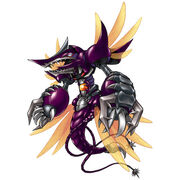 TyrantKabuterimon is Tentomon's Rage Mode. He can becomes TyrantKabuterimon when HerculesKabuterimon accumulates enough power and fury.
Attacks
Shine of Bee: Emits a red-hot explosion from its entire body which is impossible to defend against, and instantly reduces all of its opponents to ash.
Bee Cyclone: Summons all of its insect followers to construct an impenetrable wall of bugs.
Ad blocker interference detected!
Wikia is a free-to-use site that makes money from advertising. We have a modified experience for viewers using ad blockers

Wikia is not accessible if you've made further modifications. Remove the custom ad blocker rule(s) and the page will load as expected.