Terriermon is one of the main Digimons character in "Digimon : The Golden Digivice".
Description
Terriermon is a Rookie Digimon who looks like a green rabbit. He is a energetic and funny young boy, he is, like Gun, protective to his twin sister, Lopmon.
Attacks
Petit Twister: Generates a tiny tornado by spinning its ears like a propeller.
Bunny Blast: Spits out shots of superheated air.
Other Forms
In The Golden Digivice, Terriermon raises several forms, in spite of his Rookie form is the one that he sets mostly
Zerimon's Digi-Egg

Zerimon
Zerimon is Terriermon's Fresh form.
Attacks
San no Awa: Spits acid bubbles to intimidate the opponent.

Gummymon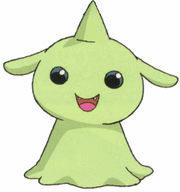 Gummymon is Terriermon's In-Training form. He was in this form when he met Gun. He resumes this form after using his Ultimate form.
Attacks
Double Bubble: Spits out a lot of adhesive bubbles.

Gargomon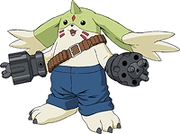 Gargomon is Terriermon's Champion form. This form make him more violent and vulgar. He used it for the first time to fight Monzaemon.
Attacks
Gargo Pellets: Fires the vulcans on both of its arms.
Bunny Pummel: Gets into the opponent's space, then thrusts up a "Gargo Pellets" from below.

Rapidmon
Rapidmon is Terriermon's Ultimate form. Rapidmon is calmer than Terriermon and, unlike his Rookie form, he will always make a battle strategy before fight.
Attacks
Rapid Fire: Rapid-fires homing missiles from both of its arms.
Tri-Beam: Fires a beam from its whole body that completely disassembles the opponent's data.
Homing Blast: Fires homing missiles from the launcher on its back.

MegaGargomon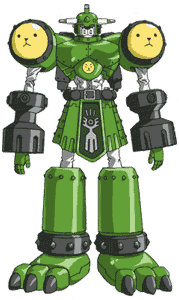 MegaGargomon is Terriermon's Mega form. He is slower than the other forms but he is more intelligent and powerful.
Attacks
Mega Barrage: Volley fires its firearms.
Gargo Missiles: Fires gigantic megaton-class missiles from the gun turrets on its shoulders.
Mega Twister: Charges the opponent, then lifts them up and spins rapidly before tossing them.
Power Pummel: Generates pulverizing shockwaves from its fists.

BlackMegaGargomon
BlackMegaGargomon is Terriermon's Rage Mode. To become BlackMegaGargomon, Terriermon has to take his Mega form and accumulate anger and energy.
Attacks
Giant Missile: Fires gigantic megaton-class missiles from the gun turrets on its shoulders.
Ad blocker interference detected!
Wikia is a free-to-use site that makes money from advertising. We have a modified experience for viewers using ad blockers

Wikia is not accessible if you've made further modifications. Remove the custom ad blocker rule(s) and the page will load as expected.