This digimon appears in a fan fiction series called Indic Tales.
Appearance
Terriermon is called a bunny because of his long ears and his similarity to Lopmon. However, he is actually modeled after a dog, and named after a group of dog breeds Terrier.
Description
He's cute and likable, and unlike his partner Ashish, he is friendly rather than attractive he loves being in his partner's company.
Attacks
Bunny Blast: Terriermon fires energy blasts from his mouth. This can be in either a rapid round of tiny blasts, or in one large concentrated blast.
Terrier Tornado: Terriermon spins himself around and shoots a green tornado at his enemies.
Other forms
Zerimon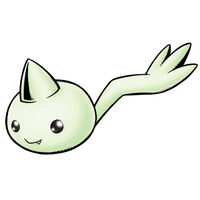 Zerimon is Terriermon's Fresh form.It appears on losing too much energy in the Ultimate form.
Attacks
Bubbles: Fires bubbles from its mouth.
Gummymon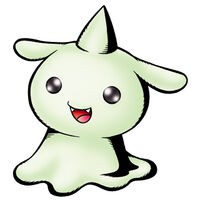 Gummymon appears first in The Beginning of All. Later, it appears only when Zerimon digivolves.
Attacks
Bubbles: Fires bubbles from its mouth.
Garlegomon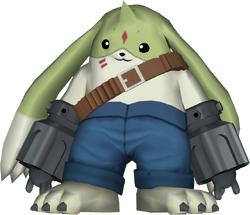 Garlegomon is the digivolved form of Terriermon. Its first appearance was in the Episode of the same name when Ashish made it digivolve to save a Gaomon from a BlackGarurumon. This BlackGarurumon is later vitue-scanned as Gabumon. It is the most preferred form.
Attacks
Garlego Pellets: Fires bullets or laser beams from the Gattling Arm gauntlets on his arms.
Bunny Pummel: Uses his Gatling Arm as smashing weapons. His Gatling Arm sometimes blazes with green laser for more damage.
Rapidmon

Rapidmon is the Ultimate form of Terriermon. It appears in Digimon Indic Tales:Progress to the Ultimate which is still under development.
Attacks
Rapid Fire: Fires powerful missiles from his arm cannons.
Miracle Missile: Fires missiles from his back rocket launchers.
Tri-Beam: Forms an energy triangle in a formation and fires a green laser from it.
Trinity Burst: In this combined attack with WarGrowlmon and Taomon, Rapidmon turns into a crystal-like form, then a beam of energy, and then he combines with the other two (also in the form of energy beams at this point) into an energy arrow that resembles a

crane

.
MegaGarlegomon
It appears in mid-time of Digimon Indic Tales:Mysterious Secrets Unleashed.
Attacks
Mega Barrage: Volley fires his firearms.
Garlego Missile
Garlego Missiles : Fires gigantic megaton-class missiles from the gun turrets on his shoulders.
Mega Twister: Charges the opponent, then lifts them up and spins rapidly before tossing them.
Power Pummel: Generates pulverizing shock waves from his fists.
MegaGarlegomon Raijin Mode
MegaGarlegomon Raijin Mode is the Super Ultimate Form of Terriermon. It appears in the Digimon Indic Tales:Finales
Attacks
Electro Ball: Launches balls of electricity.
Blitz Arm
Back Storm: Strikes with lightning in the midst of rain.
Raidramon
It is the Armored Ultimate form of Terriermon. It appears through Armor Digivolution in Digimon Indic Tales:Mysterious Secrets Unleashed
Attacks
Lightning Blade: Fires an electric blade from the lightning-bearing blade on its head.
Blue Thunder: Fires a powerful electric shock from the three protuberances on its back.
Thunder Blast: Fires a bolt of lightning from its mouth.
Electric Bite: Snaps at the opponent with electrically-charged jaws.