Gatomon (Xros Wars manga)
Talk

3
5,891pages on
this wiki
Gatomon is first seen in Corridor Zone. She accompanies Wizardmon as his bodyguard. Their relationship is an homage to that of Gatomon and Wizardmon in Digimon Adventure; Gatomon even mentions having gone on an adventure with a human girl in the past.

What could possibly be wrong with gaining knowledge and information?
---
This article is a stub and is missing information.
You can help DigimonWiki by expanding it.
Other forms
Edit
Angewomon
Edit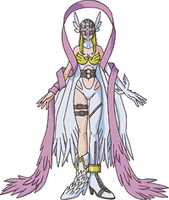 Angewomon is Gatomon's digivolved form.
Human form
Edit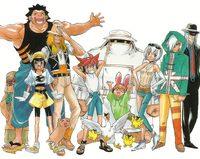 This is the form Gatomon assumes under Wizardmon's magic to move about in the Human World incognito. She looks like a girl on her late teens, with blue eyes, and white hair with purple tuft and a long braid with a purple tuft in the end, the tufts are similar to her tail and ears. She wears sunglasses over her head, a cream-colored sleeveless shirt, a pendant, blue jeans with only the left pant leg, a belt, white and purple pointy shoes, and a long white glove on her left arm. Notably, her hair style and pendant are similar to Kari's and her asymmetrical clothing resembles Angewomon's, a likely reference to Digimon Adventure.
Notes and References
Edit