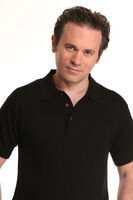 Joshua Seth is an American voice actor. He retired from voice acting in 2005 to focus on his hypnotist show, but has stated that he would be happy to return to voice Taichi "Tai" Kamiya if asked.[1]

List of roles
Notes and references
External links
Ad blocker interference detected!
Wikia is a free-to-use site that makes money from advertising. We have a modified experience for viewers using ad blockers

Wikia is not accessible if you've made further modifications. Remove the custom ad blocker rule(s) and the page will load as expected.