Justice Equals Power!
Talk

0
5,890pages on
this wiki

What could possibly be wrong with gaining knowledge and information?
---
This article is a stub and is missing information.
You can help DigimonWiki by expanding it.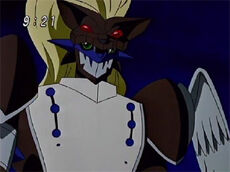 "Justice Equals Power!"

(力こそ正義!獣騎士ドゥフトモン)
""Indeed Strength is Justice! Beast Knight Duftmon""

Biyomon returns to the Damon household with numerous Fresh and In-Training Digimon in tow. Yoshi and Keenan help out in taking care of them, despite all of the headache-inducing antics of the childish Digimon. Leopardmon, under the orders of Yggdrasill, attacks the real world nearby the Damon household. Rosemon and Ravemon do their best to stop the Royal Knight but fail. However, both go through Burst Digivolution and defeat Leopardmon once and for all.
Featured Characters
Edit
(Numbers indicate order of appearance. Bolded characters are fought by the protagonists, and italicized characters appear only as a voice or silhouette.)
Digimon Analyser
Edit
Digivolutions
Edit
(Number indicates order of occurrence.)
Other Notes
Edit
There is currently no trivia for this article.