What could possibly be wrong with gaining knowledge and information?
---
This article is a stub and is missing information.
You can help DigimonWiki by expanding it.
Kurata's Real Plan

(破滅のパワー シャイングレイモン暴走)
""The Power of Destruction—ShineGreymon Runs Wild""


Airdate
(Ja:) December 10, 2006
(En:) July 7, 2008
Animation
studio
Toei Animation
Synopsis
Featured Characters
(Numbers indicate order of appearance. Bolded characters are fought by the protagonist(s), and italicized characters feature non-explicitly, e.g. voice, silhouette, image.)
Digimon Analyser
Belphemon Sleep Mode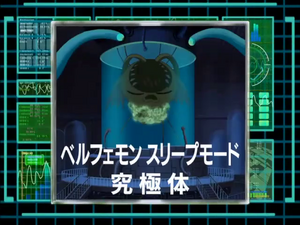 Mega
???: "An Mega level Digimon who is counted as one of the Seven Great Demon Lords. It hides an enormous unimaginable amount of power behind its cute sleeping face!"
Digivolutions
Quotes
Other Notes
There is currently no trivia for this article.