MirrorBallmon is a Digimon. Laylamon uses it to control other Digimon.[1]
Design
MirrorBallmon's appearance is unknown.
Etymologies
MirrorBallmon (ミラーボールモン)
Name used in D2-35: Lilithmon. No official romanization available.
Fiction
Digimon Fusion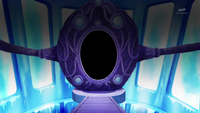 Although MirrorBallmon never appears in Digimon Fusion, Laylamon uses a mirror attached to a giant ball to control Angie, similarly to MirrorBallmon's described ability from D2-35: Lilithmon. Ice To See You, Angie!

Notes and references
Ad blocker interference detected!
Wikia is a free-to-use site that makes money from advertising. We have a modified experience for viewers using ad blockers

Wikia is not accessible if you've made further modifications. Remove the custom ad blocker rule(s) and the page will load as expected.