Synopsis
Featured characters
(Numbers indicate order of appearance. Bolded characters are fought by the protagonist(s), and italicized characters feature non-explicitly, e.g. voice, silhouette, image.)
Quotes
Other notes
Animation errors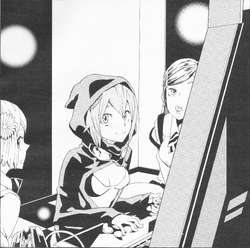 This chapter depicts Rina's friends slightly differently from "Gravel Wasteland"—the long-haired friend wears a different hairclip, has a piercing on her right ear, a larger chest, and doesn't have hair falling in front of her shoulders, while the short-haired friend has a different kind of flower in her hairclip.
Ad blocker interference detected!
Wikia is a free-to-use site that makes money from advertising. We have a modified experience for viewers using ad blockers

Wikia is not accessible if you've made further modifications. Remove the custom ad blocker rule(s) and the page will load as expected.