What could possibly be wrong with gaining knowledge and information?
---
This article is a stub and is missing information.
You can help DigimonWiki by expanding it.
Tagiru's Gotten Soft!? Gumdramon's Big Pinch!!

タギルがふにゃふにゃ!?ガムドラモン大ピンチ!!
(Tagiru ga Funyafunya!? Gamudoramon Dai Pinchi!!)

Airdate
(Ja:) December 11, 2011
Animation
studio

Toei Animation
Synopsis
Featured Characters
DigiAnalyzer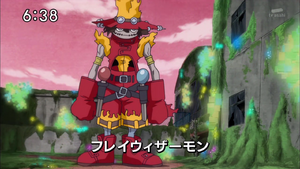 FlaWizarmon
Digimon Introduction Corner
FlaWizarmon
Type: Demon Man
Special Moves
Magic Ignition
Fire Cloud
Clockmon: "FlaWizarmon! A Digimon who uses fire magic and carries wands shaped like matchsticks!"
Old Clock Shop Man: "His special attack is changing the entire area around him into a fire storm, Fire Cloud."
Mikey: "All right, DigiXros with Wisemon! DigiXros!"
FlaWizarmon + Wisemon: "With my added knowledge, my magic has grown even stronger."
Other notes
Miscellaneous trivia
Starting with this episode, Shoutmon shouts "Shoutmon Super-Evolution! Super-Evolve! OmegaShoutmon!" when he digivolves.