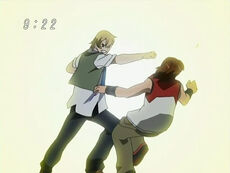 The Norstein Family Secret

訣別の日 最強の敵・トーマ!
"The Day of Parting—The Strongest Enemy: Tohma!"

Synopsis
Featured characters
(Numbers indicate order of appearance. Bolded characters are fought by the protagonists, and italicized characters appear only as a voice or silhouette.)
Digimon Analyzer
No Digimon are analysed in this episode.
Digivolutions
(Number indicates order of occurrence.)
Quotes
Other Notes
There is currently no trivia for this article.