What could possibly be wrong with gaining knowledge and information?
---
This article is a stub and is missing information.
You can help DigimonWiki by expanding it.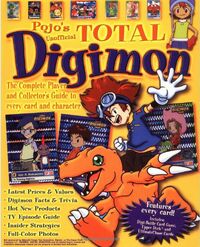 Total Digimon (full title "Pojo's unofficial Total Digimon - the complete player and collector's guide to every card and character") is a Digimon guide created by Pojo and published by Triumph books.
The book, which is around 112 pages long, is a detailed guide to all the different aspects of the Digimon Adventure series and was originally sold in the United States for $12.95. Like most of the Digimon books it has been out of print for years but can still be found and bought on-line second hand from different retailers.
Book Blurb
The Ultimate player and collector's guide. Total Digimon is the best source for Digimon trading cards. Everything a Digimon player and collector needs is included such as: Full colour photos, values and checklists, values for Digi-battles card game, Upper deck and ultimate chase cards, Hot strategy tips for trading card games, Leastest Digimon products to collect and A guided tour through the television series.
Content
Digi-news - Latest news about Digimon merchandise.
Digi-Web - Links and reviews of Digimon websites: FoxKids.com, Upper Deck, Geocities's Big Digimon, Bandai and All4fun toys.
Meet the Digimon - A guide to each child and their Digimon's forms.
Information about the Digi-battle card game.
Information about the Digimon tamagotchis.
A full episode guide for all 54 episode of Digimon Adventure.
A review of the three Digimon films.
Digi-Mall - A look into diffrent Digimon toys and other merchandise.
Information about all the Digimon cards and their prices.
Information about the "Animated series edition" Digimon cards.
A Digimon word search
A game to guess Digimon from toes.
A game to find a Digimon's name from scrambled letters/
A Digimon maze.
The answers pages.
Gallery
Ad blocker interference detected!
Wikia is a free-to-use site that makes money from advertising. We have a modified experience for viewers using ad blockers

Wikia is not accessible if you've made further modifications. Remove the custom ad blocker rule(s) and the page will load as expected.